Merck Adult Vaccines: Video Library for Pharmacists
PhAVE Talk Video Series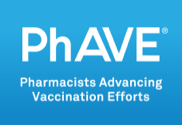 PhAVE Talks are educational talks presented by pharmacists and other experts in the field. These inspiring and innovative presentations focus on current issues facing pharmacists and their staff. Additionally, PhAVE Talks provide tips on successfully meeting today's challenges and advancing vaccination strategies in the pharmacy.

PhAVE Talks support the Merck Adult Vaccination Program for Pharmacists in its goal to help expand access to adult vaccines within communities and to aid in year-round vaccination programs at local pharmacies.
From Millennials to Baby Boomers:
Promoting Customer-
Centric Experiences
Full Video [10:19]
Speaker: Tana Kaefer, PharmD, has been a pharmacist for about 16 years and works at Bremo Pharmacy in Richmond, Virginia.
A pharmacist shares successful tips on reaching out to patients who are millennials, Gen Xers, or baby boomers. Discover communication channels that are most effective and appropriate for each generational segment.
See highlights from this talk.