Starting a Vaccination Program in Your Pharmacy
The role of the pharmacist in the United States health care system is an important one, especially as pharmacies become an increasingly critical part of a patient's health care network. Alongside the other important work of a pharmacist, vaccination can serve as a fulfilling and effective way to participate in patient care.
But getting started can be tricky—there are different types of insurance, important vaccine storage requirements, and different ways to engage patients in a dialogue on vaccination.
Here you will find resources that will help you navigate starting a vaccination program in your pharmacy. Whether you are a new pharmacist, or you're looking to start offering vaccinations in your pharmacy, Merck is here to partner with you.
Where Do I Begin?
Let's start with your pharmacy—and your team! They can help you manage your vaccination program. Here you will find ways to help you engage your team, and resources to help ensure everything runs smoothly.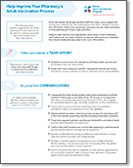 Vaccination Process Sheet
This resource includes suggestions that pharmacists have reported to be useful in creating successful vaccination programs.
Work Together and Be Prepared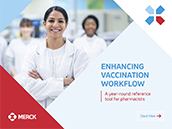 Enhancing Vaccination Workflow
A Resource That Will Help Pharmacy Staff to Work Together and Be Proactive During Adult Vaccination.
Have Questions? Contact Us!