Merck Adult Vaccines: Video Library for Pharmacists
PhAVE Talk Video Series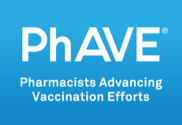 PhAVE Talks are educational talks presented by pharmacists and other experts in the field. These inspiring and innovative presentations focus on current issues facing pharmacists and their staff. Additionally, PhAVE Talks provide tips on successfully meeting today's challenges and advancing vaccination strategies in the pharmacy.
PhAVE Talks support the Merck Adult Vaccination Program for Pharmacists in its goal to help expand access to adult vaccines within communities and to aid in year-round vaccination programs at local pharmacies.
Challenge Your Generational IQ: How Well Do You Know Your Patients' Ethos?
Speaker: Meagan Johnson

An expert presents insights on generational differences that impact consumers and their
approach to health care. See how understanding generational views can make a meaningful difference when connecting with patients.
From Millennials to Baby
Boomers: Promoting
Customer-Centric Experiences
Speaker: Tana Kaefer, PharmD

A pharmacist shares successful tips on reaching out to patients who are millennials, Gen Xers, or baby boomers. Discover communication channels that are most effective and appropriate for each generational segment.
Disparities in Health Care Access: Impact on Health Care Delivery
Speaker: Leslie Martin, PhD

A psychology professor talks about social determinants of health outcomes and barriers to health care access for adult patients in the
United States. Learn about key factors associated with health outcome disparities.
Disparities in Health Care Access: Exploring Strategies in Pharmacies
Speaker: Shantel Houston, PharmD

A pharmacist discusses how to identify adult patients who may not have optimal access to health care services. Discover many ways to help overcome certain social determinants and facilitate equitable health care.