Cause and key clinical manifestations of pneumococcal disease
Patients at increased risk for invasive pneumococcal disease (IPD)

Age increases the risk for IPD

| Chronic condition | Chronic heart disease | Chronic lung disease | Diabetes mellitus |
| --- | --- | --- | --- |
| Risk versus healthy adultsa | ~3X | ~7X | ~3X |

aRetrospective cohort study using data from January 1, 2006, through December 31, 2010, from 3 health care claims databases representing >35 million insured adults ≥18 years of age. Risk for IPD was compared between healthy adults ≥65 years of age and healthy adults 50 to 64 years of age. Risk for IPD in adults with chronic conditions was compared to age-matched healthy counterparts.2
Chronic conditions that increase the risk for pneumococcal disease

Diabetes mellitus may cause patients to be in a hyperglycemic state, which can functionally impair certain immune cells. This leads to reduced clearance of bacteria and increases the probability of infection.3
Chronic heart disease may cause inadequate cardiac output that causes lung congestion. This in turn leads to reduced clearance of bacteria and may increase the risk for infection.4,5,6
Chronic lung disease (COPD) causes chronic lung inflammation and impaired functionality of certain cells of the immune system, which reduces clearance of bacteria and potentially leads to infection.7
Advanced age increases the risk for pneumococcal disease

There are many reasons why older patients are more susceptible to pneumococcal disease. For example, the cough mechanism becomes less effective, and the immune system weakens, increasing the susceptibility to pneumococcal disease.8
The burden of pneumococcal disease

Although noninvasive pneumococcal pneumonia is more prevalent than invasive disease, the diagnosis is often difficult to make, and confirming, for example, that a case of pneumonia is definitively caused by Streptococcus pneumoniae can be challenging.9
For this reason, invasive pneumococcal disease is a reliable indicator of overall pneumococcal disease burden.9
---
Alexa Pneumococcal Disease Info Skill
The Pneumococcal Disease Info skill has been created to help patients learn about pneumococcal disease while they wait in their doctor's office. When an Alexa device is in the exam room patients can ask Alexa to give them a brief explanation of pneumococcal disease and its risk for those ages 65 years and older, or if they are ages 19-64 and have diabetes, chronic heart disease, or COPD.
Merck is offering you this educational resource. The information is intended for health education in the United States. This is not intended for children.
Below is information to assist you and your providers in the installation of the skill in the patient exam room.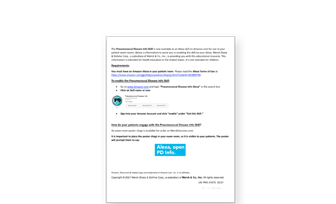 Alexa Pneumococcal Disease Info Skill Directions
Instructions you can view or print to set up your Alexa skill.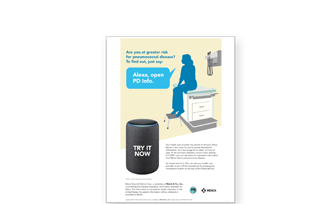 Order Alexa Pneumococcal Disease Info Skill Poster
Order printed copies for your office. (Note: you must be logged in to order.)
You must have an Alexa Device in your patient room. Please read the Alexa Terms of Use here.
Amazon, Alexa and all related logos are trademarks of Amazon.com, Inc. or its affiliates.
CDC Disease Information
DISCLAIMER: By clicking on the link below, you will be directed away from MerckVaccines.com to another website. Merck does not review or control the content of the site to which the hyperlink connects; therefore, the hyperlink does not constitute an endorsement by Merck.
CDC, Centers for Disease Control and Prevention; COPD, chronic obstructive pulmonary disease.