Below are FAQs and topics related to orders you have placed on MerckVaccines.com.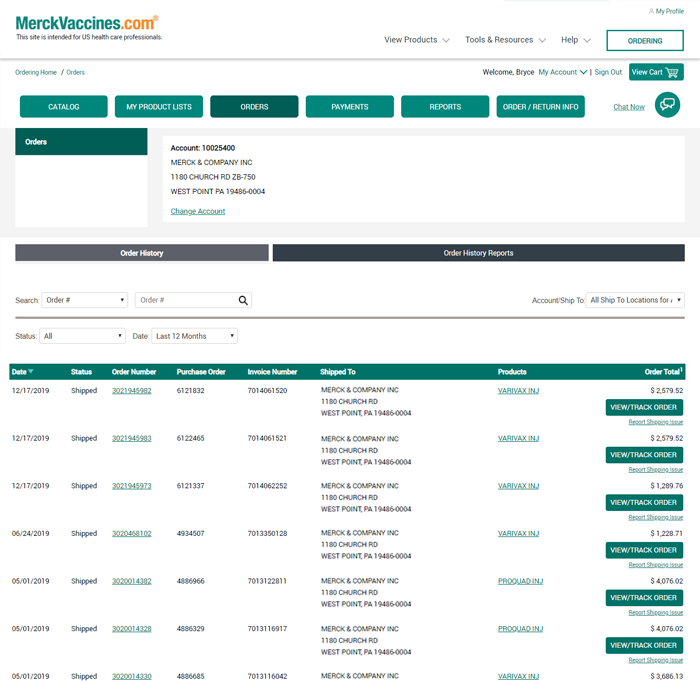 How do I find my order history?

Click the "Ordering" button from the top of any page of the site and then "Orders." The main view is your order history, which lists all orders submitted on your account. Click the green "View/Track Order" button for any order to view the order details.

You will be able to search for one or more orders.
How do I reorder a previous order?

Go to the Order Detail page for a particular order. Click the green "Reorder" button at the top of the page. Proceed through the checkout process and complete the new order.
Can I see my recently ordered products?

From the Catalog, you can see the last 20 products you ordered under Browse Products – Recently Ordered. Use the standard ordering process to reorder any of the products listed.
Searching for Order Information
How do I search for information about my orders?

From the Orders (Order History) page, use the search option to find an order by status, NDC number, order number, product family, purchase order number, ship to location, and/or by time period.
Downloading Order History Reports
How do I download order history reports?

Go to the Orders section of Order Products and click the "Order History Reports" tab. Simply select the account and shipping location for which you want the report, then the date, and finally the type of report you want. Click the green "Download Report" button. In order to view your order history reports, you will need a program on your computer that can read .csv files, such as Microsoft Excel.
Submit Shipping Issues
How do I submit shipping issues online?

From the Orders (Order History) page, click the "Report Shipping Issue" link below the View/Track Order button. You will be asked if you are reporting an issue for the whole order or only part of the order. You will then be taken to a page that will allow you to choose the issue and quantity of product that was affected. The Problem Resolution team will review the issue and contact you, if needed, to resolve the issue.

You will also find a Report Shipping Issue link on the Order Details page for every order.