Below are FAQs and topics related to invoices, payment history, and account credits available to you on MerckVaccines.com:

Merck Account Open

These are the invoices you billed to your Merck Account.

Credit Card Scheduled

These are invoices scheduled-to-be-billed to your credit card.

All Paid

These are the invoices that have been paid in partial or full. Partially paid invoices also appear on the "Merck Account – Open" tab and can be paid from there.

Payment History

Payment history provides a list of all payments made.

Account Credits

Account credits can be applied when you pay an open invoice (on the "Merck Account – Open" tab) or pre-pay a scheduled payment (on the "Credit Card – Scheduled" tab).

Payment Reports

This tab allows you to download reports in Excel of any of the Payment tabs. Reports are generated in .csv format to easily import into spreadsheet programs.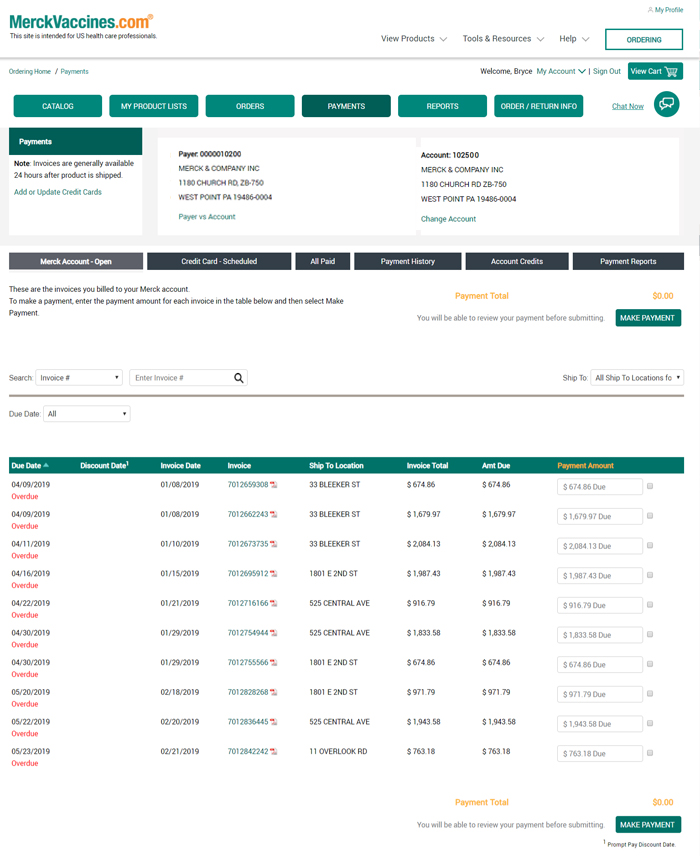 What forms of payment does MerckVaccines.com accept?

When you order online on MerckVaccines.com you have two choices:

You can use a credit card or be invoiced for an order. Invoices must be paid with a credit card.
A personal/business check, if you wish to mail in your payment. Send your payment, along with the remittance stub (bottom of invoice), to the address listed on the stub.
How long does it take for payment to post to my account?

Once Merck receives payment, it may take up to 1 business day for a payment to post to your account and for your invoice to be listed as paid.
How do I use a credit to pay for an invoice?

Go to Ordering then Payments and find the invoice you want to pay. First specify the amount to pay on the invoice, click the green "Make Payment" button, and you will be prompted to apply any credits on your account.

View your credits available by clicking the "Account Credits" tab under Payments.

Searching for Paid Invoices
Search paid invoices by invoice number on the All Paid page in the Payments area (within Ordering). You can also find a paid item by status and payment date.

Note that you can also view your pending and scheduled payments as well as payment history and available credits.

Searching for Payment Information
You can search your payment history by payment number on the Payment History page in the Payments section. You can also find payments by status and payment date. Pending means that the payment hasn't posted to your account yet and it may take up to 1 business day for a payment to post.