PNEUMOVAX 23 efficacy
In a 14-year retrospective study
PNEUMOVAX 23 demonstrated reduction of invasive disease in adults, including those at increased risk1,a,b
Effectiveness against invasive pneumococcal infections caused by serotypes in the vaccine:1,a,b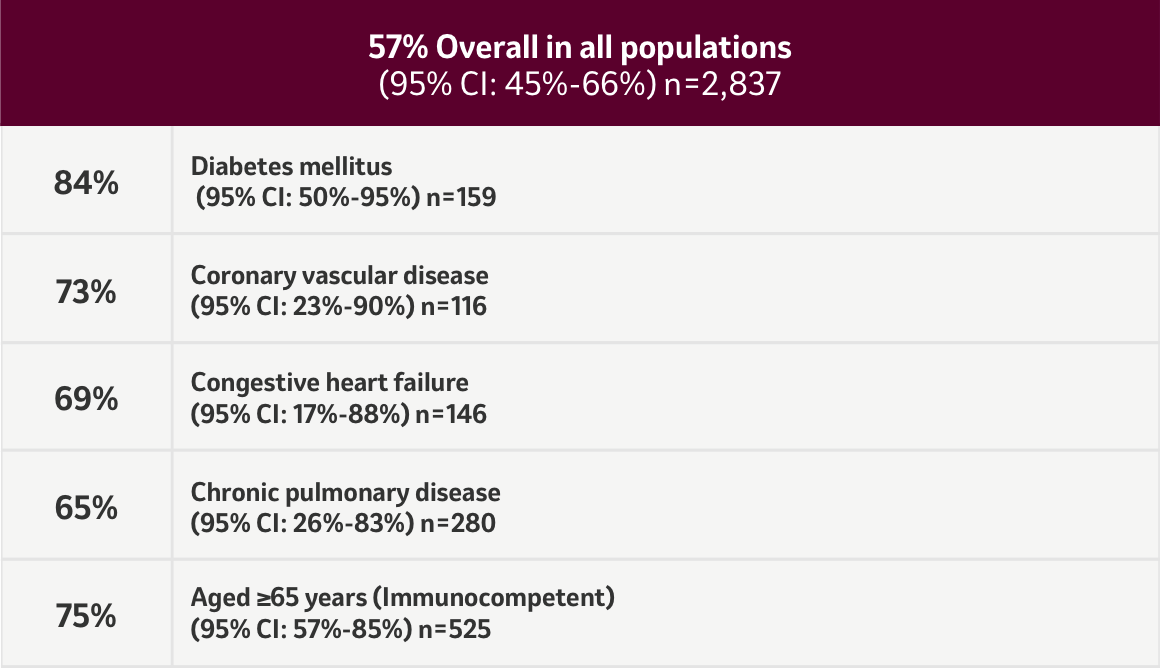 aEffectiveness was evaluated using the 14- and 23-capsular pneumococcal polysaccharide vaccine.
bVaccine effectiveness could not be confirmed for certain groups of immunocompromised patients.
Study design

A US retrospective, indirect cohort study covering a 14-year period (1978-1992), in 54 hospitals and 26 states. Patients eligible for inclusion were ≥2 years of age with a known vaccination status/date, who were monitored for illness during this period and from whom pneumococcus was isolated from blood or cerebrospinal fluid (CSF). The median age of vaccinated patients was 57 years; the median age of unvaccinated patients was 50 years. Vaccine effectiveness was estimated by comparing the distribution of disease-causing pneumococcal serotypes in vaccinated (eg, received either the 14-valent or 23-valent pneumococcal polysaccharide vaccines) and unvaccinated persons. Vaccine effectiveness was also estimated for study participants with underlying medical conditions.1
Butler JC, Breiman RF, Campbell JF, et al. Pneumococcal polysaccharide vaccine efficacy: An evaluation of current recommendations. JAMA. 1993;270(15):1826-1831.